Imagine waking up each and everyday not knowing why your child is screaming, because she is in pain, having no idea that your child has a large tumor growing in her belly, called Neuroblastoma.
My sister recently told me about this little girl
Gracie
and her family that she used to go to church with here in Maine, who have since moved. I remembered their name, but I am in a different ward, and so I didn't know them as well as my sister did. She told me this story and of course it made me think of my own girls who are as healthy as they can be. She then sent me an email and told me about these 3 Etsy shop owners that are all friends with this family as well and how they are donating a portion of their proceeds to this family, for her medical bills. I knew I had to do something to help.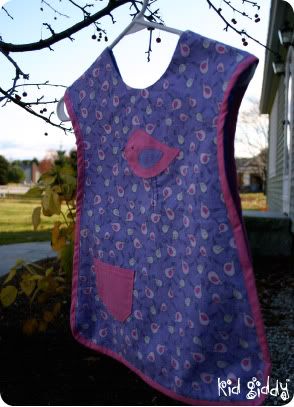 I recently put up this child size
"Gracie's Apron"
and will donate the entire purchase price to Gracie's fund to help in my own small way.
Today I am also sharing these 3 shops in the hopes that purchases will be made and proceeds donated to to help Gracie fight this cancer.
Time Captured
BeansThings
If you'd like to donate directly, you can do so by visiting the blog about
Amazing Gracie
. Hug your children a few extra times today! Love them that much more - I know I will! I am forever grateful for my beautiful daughters - Gracie has made me realize, that I need to blog less and be with them more, I need to enjoy them now! One day they will be grown, and in lives of their own...I'll have a great blog - but less memories. I'd rather have those memories of them being little now. Please help Gracie if you can! -kg