Sorry for the long pauses between posts...I am trying to juggle life and kids, and volunteering in school and church, and working my craftiness...my blog seems to get the brunt of the "I have no time left"! Today and for the past couple of months, I have wanted to share this awesome recipe...tried and true...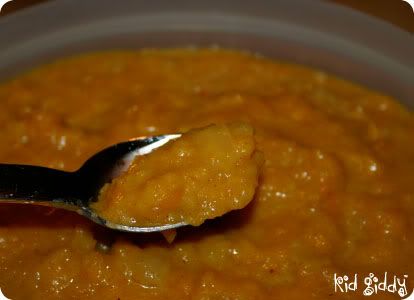 This is the best soup! This was taken prior to being pureed! Enjoy!
My family took a trip this past fall, to the one and only Fryeburg Fair in ME. After a long day of walking the grounds at the fair, my husband decided it was time to go and we headed 45 minutes west to our hotel in NH. Within hours of eating lunch he got sick. As dinner time rolled around, I wrangled up my girls and took them out to get some yummy food at this near by (amazing) restaurant with a literal "hole in the wall". (Called Delaney's). We have been going there for a couple of years since first discovering it...but that night we got our dinner to go (because my hubby was sick and I felt bad he was in the hotel alone)...and they had this awesome soup that sounded too good to pass up.
I got a cup and of course went back the next day for lunch and got a bowl! lol! I was very brazen and asked the server if I could bribe the chef for the recipe and swore I wouldn't share it!
(ok - I know - first I mention my husband getting sick from eating something - and now I'm telling you I swore I wouldn't share the recipe - so why would any of you want to make this recipe now!)...but wait I'm getting to the point....
They didn't give it to me. The Chef wouldn't divuldge his secret recipe! The server told me only a couple of things that were obviously in there...The Butternut Squash and the Apples...and then I mentioned I tasted nutmeg and cloves. That was all I got - oh and the cream!
So I came home with the taste fresh on my mind and got to work. I scoured the internet for all the recipes I could find...but none that looked right according to the flavors I remembered.
Well folks...I did it. I just pulled up my sleeves and combined and fudged 5 different recipes to recreate the soup that I remembered and it worked! So - since it's not just one persons recipe and I fudged it all anyway...here is
my
recipe...
Here's what you'll need:
2 medium - Large Butternut Squash - diced into equal cubes (Man that Butternut is tough! Try to buy them already halved and peeled - save your back and knuckles!!)
5 large Macintosh Apples - peeled and diced into equal cubes
2 medium Onions - diced (use 2 large if you really like onions!)
3 cups of Chicken Stock (I used 2 cups the first time - and 3 the second time - I wanted it thinner than the above picture - 3 is better.)
1 1/2 cups of Apple Cider
1 cup Half & Half
3 tbsp Brown Sugar
2 tbsp Olive Oil
2 tbsp Butter
2 tsp Cinnamon
1 tsp Sea Salt
1 tsp Ground Curry Powder
1/3 tsp Nutmeg
1/3 tsp Cloves
Here's what you do:
1) Dice all your Butternut Squash, Apples, Onions.
2) In a large stock pot, saute your Onions in the butter until soft and golden - don't cry - just do it.
3) Now drop in your Butternut Squash, Apples, Chicken Stock, Apple Cider, Salt and Brown Sugar and mixing gently.
4) Continue to mix once in a while as the soup warms and comes to a boil. Once at a boil, cook on med-low until the butternut squash is soft to mash with a fork, stirring occasionally.
5) Add your spices: Cinnamon, Curry Powder, Nutmeg & Cloves.
6) Using a potato masher, begin to breakdown the chunks of Butternut Squash.
7) Remove from heat and let cool for about 5 minutes.
8) Slowly stir in your Half & Half.
9) Using any stick blender, or other food processor, puree all of your soup. (The picture above is prior to blending - I was so excited to eat it, that I forgot to take another picture!)
10) Now all you have to do is enjoy it. Probably putting it in a bowl and using a spoon would be most appropriate - but please do enjoy!
I've already made this again and it was well received as an appetizer for Thanksgiving! I've also frozen quite a bit to avoid the prep work each time. I don't know officially how much this yields - but it's alot - so you can halve it if you need to!
Thanks for stopping by and if you try this recipe - I'd love to hear your feedback! Have a great week. I'll post again soon!