That's me in front of the "Hollywood" banner (standing on a red carpet)...being funny! They used it later Friday night for photo ops with a Marilyn Monroe look a like! lol!
Thursday morning I went to bed at 1:45 am, only 20 minutes after finding out that my flight to PA and LA was canceled due to a large snow storm! I worked so hard up to that point and was devestated at the thought, that maybe I wasn't meant to go, but I was somehow meant to do all that hard work.
I laid down and cried my eyes out and eventually fell asleep. When I woke, I confirmed that my flight was still canceled and began calling my Travel Agent to see if she could get me on another flight. I then hit the denial and angry stage when I was told that I was already rebooked on the same exact flight the next day! What? That's just not ok with me! So - she got on the phone and I held onto my sanity as long as I could.
Finally about an hour later - the words: ok - so you will leave Boston...on a non-stop flight to LA and arrive Thursday evening, only 1 1/2 hours later than originally planned! Whew! Crisis averted!
Sure enough - I packed my bags, dropped off my girls at a friends house, while another friend came to pick me up and take me to the bus station, traveled down to Boston (slept), and flew out of Boston as scheduled and into LA at 9:30. Good thing I was staying up so late each night the weeks prior....it actually helped avoid the serious jetlag!
This is some of the decor in the Hotel Figueroa lobby! The right picture is more the accurate colors! (and yes - it's very dark in that hotel with all the dim lighting and darker colors!)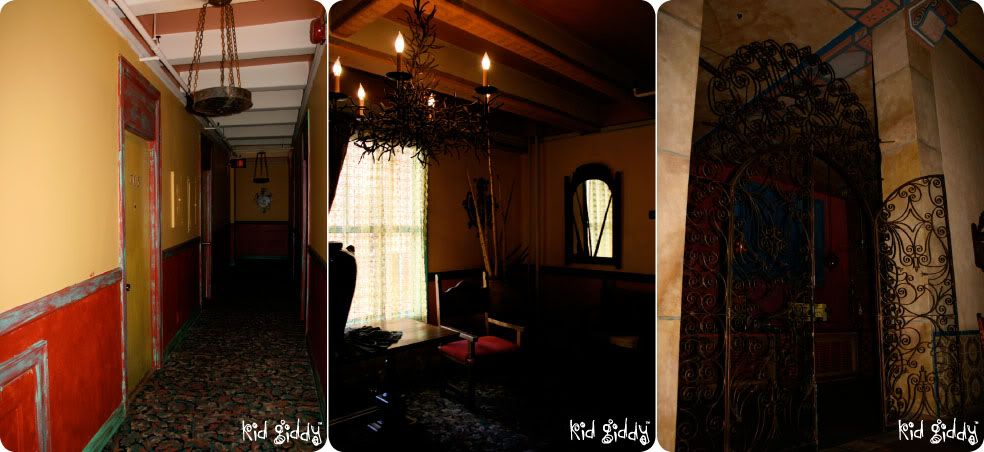 7th Floor Hallway, Coming off the elevator, The Iron Gate doorway to the "hotel cafe"(really cool!)
I arrived at my "interesting" hotel room (Hotel Figueroa - when AAA says it's not even on their list - don't stay there) - it wasn't horrible - it was just tiny and hasn't been updated in ages. The people were extremely nice and the decor was actually pretty cool. The keys were still real keys. How long do you think they've had those keys - and how many of them have possibly been copied somehow?! Scary when you really think about it. No deadlocks, only chains...really weird.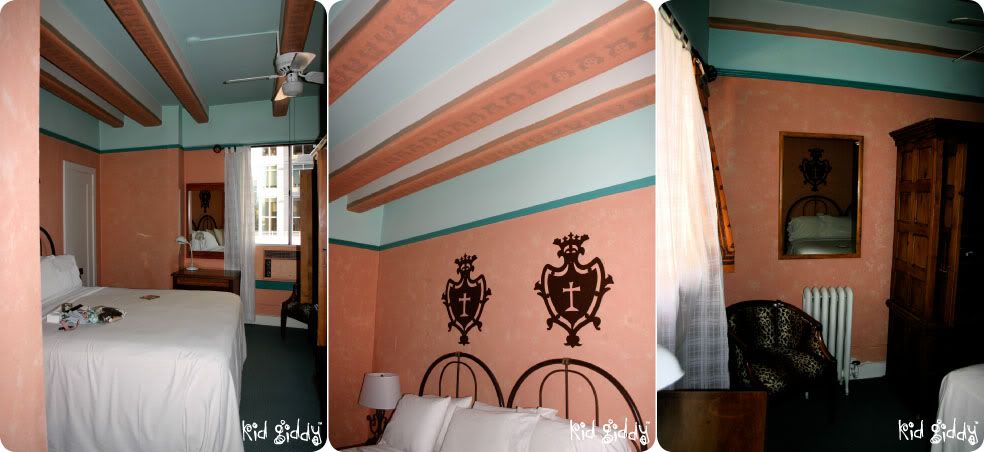 Note to self: Next time get the double queen room - it was way bigger!
The bathroom was tiny - the door opened up only to hit the toilet seat! You could barely make it around the door to get to it!
Left view out my window - Straight out my window (with dolls in someones LR), and Right view!
I unpacked only a little...painted my finger nails green with white polka dots (thank goodness for 10 minute drying drops!) and then went to bed.....I can't decided if that was a rather eventful or uneventful kind of day! lol! I just know that I was so grateful to be there and not waiting another whole day to get out there and missing all day Friday! What a blessing!
Come back and read my Day 2 update...coming soon! Thanks!