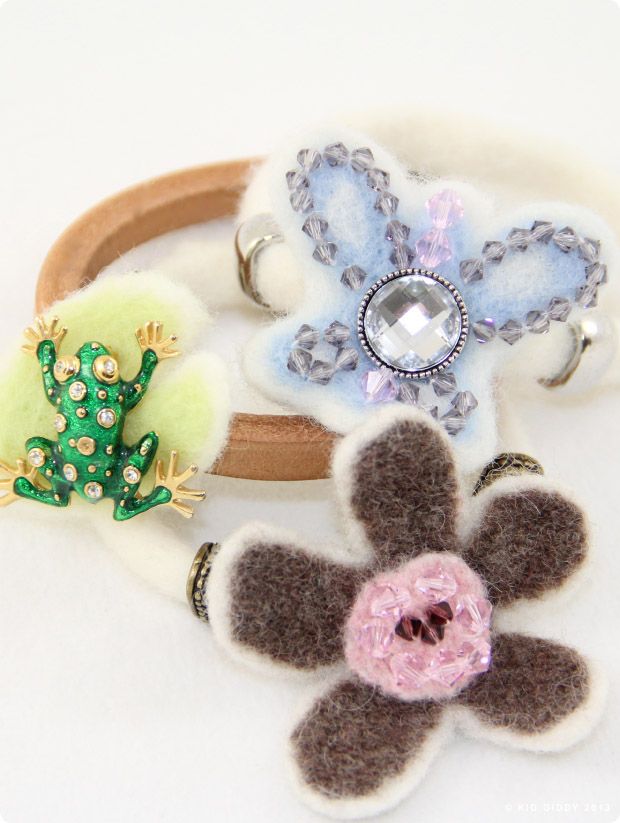 I'm always so excited to get a new box of products to play with because it always stretches my brain and creative process. This time it was a box from the folks over at
Cousin
Jewelry. They have a new
slider bracelet
system which is easier than making pie! (Of course, I would never suggest you not make pie - esp if you are going to eat it while crafting)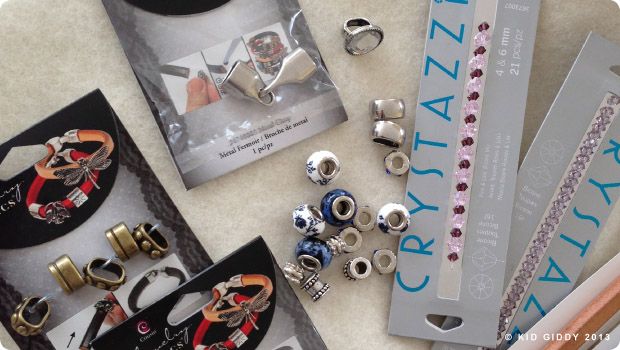 They sent me a whole slew of sliders, a couple of leather straps and some bicone beads which I always love to play with.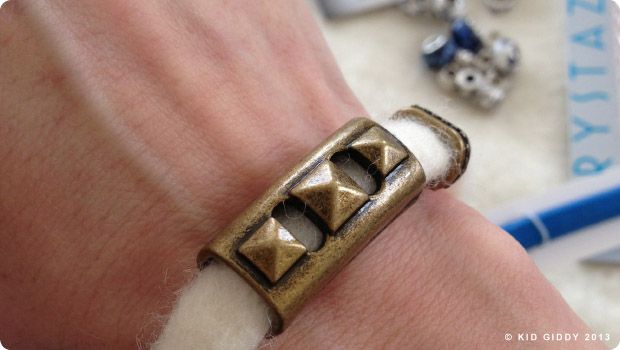 I decided to make some of the bracelets with a felted band just to be different (and give them a soft feel), still using their sliders and added some fun felted embellishments (and an old frog pin).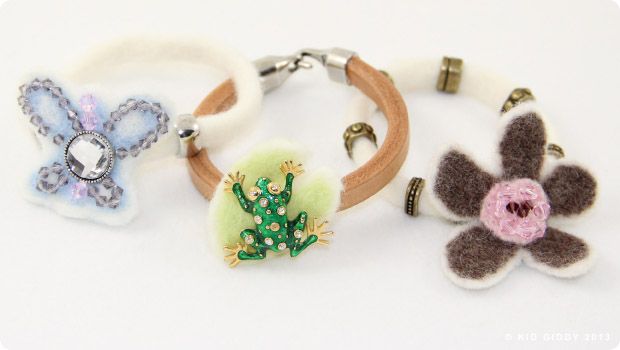 For the Butterfly: I used the large rhinestone in the center of the butterfly, which is actually one of the slider beads. I cut a small hole in the center of the butterfly to push the slider bead down into it and used the two solid silver toned beads on the sides. I then added the bi-cone beads to the wings.
For the Frog: I used an extra slider bead from the brass toned set and stitched the lily pad to the bead. I then pinned the frog to it. I used Cousins' leather band and some E6000 glue to attach the clasps to the end of the band once I cut it to size.
For the Flower: I used the bronze toned slider beads and some of the bi-cone beads in the center of the flower.
All of the felting was done with wool roving and scraps of old sweaters or 100% wool felt from my own stash. I needle felted everything first and then wet felted them (because I just love the look of wet felted pieces.
You can visit some of the other bloggers, by clicking the "forward" or "back" links below to see what they made with their goodie box, and you can visit
Cousin Jewelry
on their website or soon in a Joann store near you. These slider bracelets are really so easy - and I know my girls are going to want to make their own. This would also be a great - girly - get together craft night! Who's bringing the chocolate milk and cookies?!
Thanks for stopping by!
Although I was given free buttons from Cousin, the opinions set forth in this post, are my own. This tutorial is shared with you in the hopes that you will learn a new fun craft. Please do not use my tutorials for your own gain. Please do not use my photos without permission and please do not retake any photos to remake the tutorial for your own blog or another company or in another language. These photos and the text are copyright protected. If you'd like to "Pin" the one finished project photo, please credit me by using "#kidgiddy". Thank you for your cooperation.