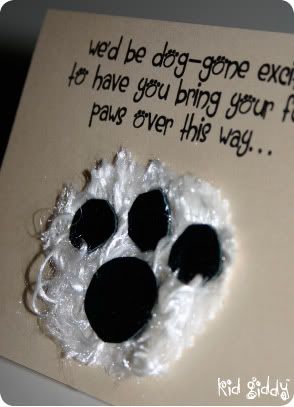 This past week while I was taking a much needed break from my bonus blog time...I was coming up with these birthday party invitations for my daughter's upcoming birthday paw-ty.
She wants to have a Puppy/Kitty party...so we came up with some fun ideas and I'll post about it after...but for now it's top secret!
Here's a preview with the cute invites!...
I used some furry pet fabric in the shape of a paw and then used some scrap leather (from when I worked at Casual Corner...I got to clear out the sample closet and was given all the samples I wanted to keep - score!). The large circle is the size of a quarter and the small ones are the size of a dime!
The front says: "We'd be dog-gone excited to have your bring your furry paws over this way..."
The inside says: You're invited to ----- 7th Birthday Party! Fish and Bones will be served for snack!" (We are having goldfish in one bowl and scooby-doo bone treats in another bowl - they are graham crackers!) So funny!
Ok- I've already said too much! More on her birthday party when it's all done! Happy Monday! -kg