So I kind of don't want to post all these pictures lol!...but this room has evolved over the past year or two and will no longer be my craft room when we convert the space above our garage to our very real Studio space! Until then, I must be grateful for what I have and hope I won't be judged that it's all filled with buckets and bins of fabric and crafts! It's not as spacious as many other "craft spaces" I've seen in the blogging world, but it is sufficient for my needs for the next year. After that I will be busting at the seams - literally! I started off very simple and then started selling on Etsy, then designing patterns for Crafts n' things, and then working for Anna Griffin, and now with all the other projects in the works - it's all piling up - and I'm out growing my once perfect space!
So here it is regardless: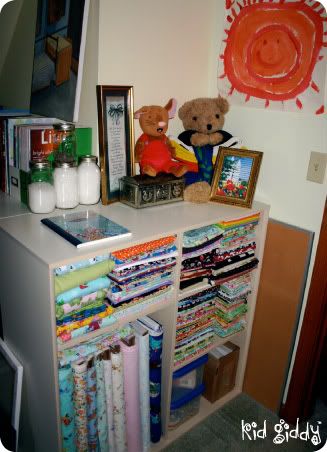 This is the Fabric stash that I dig from most frequently - My oldest daughter Monkey, painted the orange picture when she was in Kindergarten specifically for my craft room. That silver tin is from my mom when she was in Germany. I now have a Ribbon shelf rack on top of it...which is in the next two pics!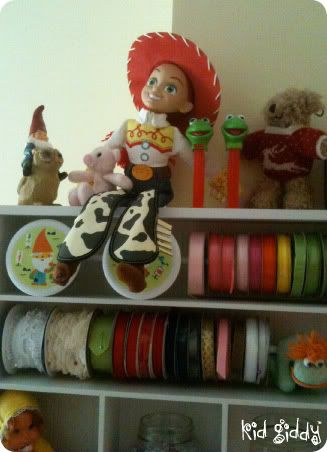 This little darling sits on top of the ribbon rack! She rocks! And so does Kermit the frog! Can you tell I like Gnomes, Cowgirls and frogs? (and the little bear - her name is Molly. She's the youngest from a Limited Edition series that The Limited Inc offered one year during Christmas. The big papa bear Harry is up above!)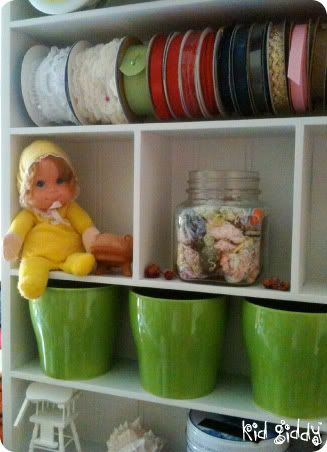 The little girl doll, was featured in a previous post - she's my doll from when I was little. The jar of threads are all from the edges after washing my fabrics! I'm still trying to decide what to use them all for! Maybe doll hair! The green jars...I stocked up on them for the new Studio space!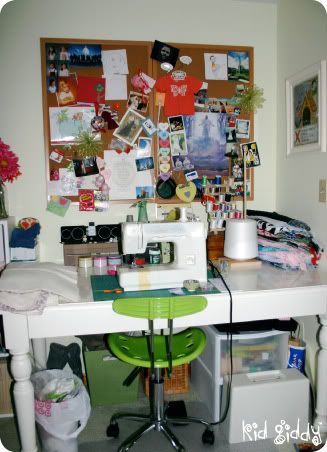 This is my pride and joy sewing table. It's the one from Pottery barn with the really REALLY awesome drawer inside (all the compartments are so handy)! It may not be ideal for the machine - but it works! My inspiration board hangs above - the butterfly t-shirt my mom made for me when I was little! My hubby got me an awesome chair in my most favorite color!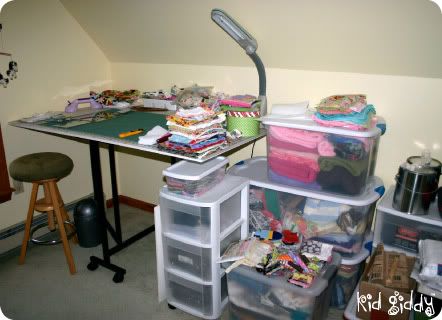 Here's my cutting table and off on the side...*blushes*...all my fabric stash that I don't use on a regular basis. I also have projects that are waiting to be done in some of the front bins as well! The window is off to the left - great to look out and get lost in space (or better - in the garden)!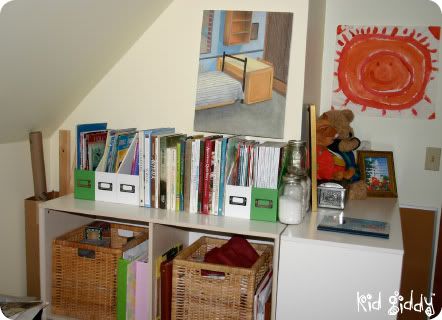 These are all my books and magazines that have brought me much inspiration! The baskets are filled with fun things my daughters are allowed to do when they feel like hanging out with me instead of playing! They have their own fabric stashes and [plastic] needlepoint crafts!
I hope you enjoyed a little peek into my creative space! On friday - I will be sharing the
"Craft Cabinet"
that we have set up for our daughters everyday use! I'll have a freebie download available too!
Have a great day!