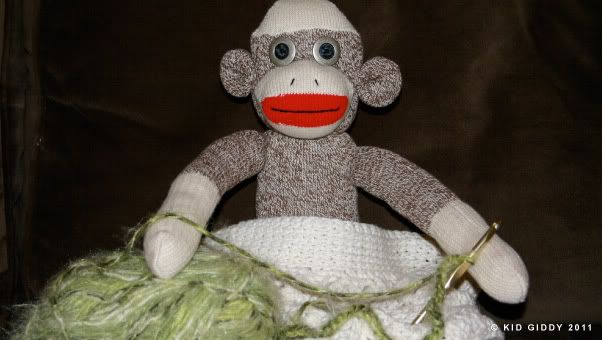 In all the years I have been sewing, I have never made a sock monkey. I've never sewn anything using a sock, although technically, I have crafted with them. So when I was offered the chance to participate in this month's challenge...I totally accepted the challenge! I can assure you that this first little sock monkey is the "first"...of many more to come! It was actually really fun to make and the When Creativity Knocks VideoBook: "Sock Monkey Goes BanAnas", provided many tips, that made it easier and quicker!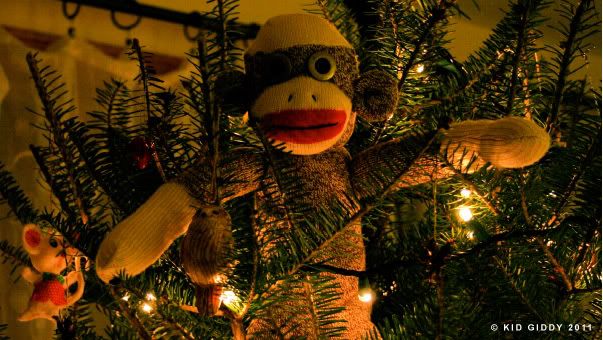 My daughter's are already asking me to make another one, and are hoping for a girl sock monkey...so we can have a mommy and daddy...and then make some babies! lol! They will be making some of the clothes for the monkey to wear and are still playing Rock, Paper, Scissors, to figure out who gets to cuddle with it first! He's already a great addition to our family of stuffies. Who knows...this just might give me reason to go bananas in the sock drawers, and make more monkeys and other stuffed creations too!
If you want a chance to win a prize package from When Creativity Knocks, here's how:
-In the Member Log in box click: Create An Account
-Entry Code: Sock Monkey
There is also a discount coupon to purchase the WCK VideoBook: Sock Monkey Goes BanAnas
(Enter before Dec 19, 2011 for your chance to win)
Prize pack includes:
-DVD "Sock Monkeys Go BanAnas
-1 pair of Rockford Red Heeled Socks
-Sewing kit, including: needle, button eyes, floss and stuffing
-Plus 1 pre-sewn sock monkey
My daughter's and I would like to thank the sponsors of this month's DCC Blog Hop challenge:
When Creativity Knocks
Have a great week and check back soon for my latest "STUFFED" publication (another first!)! and for an awesome Anna Griffin Sewing Pattern and Fabric giveaway!!!

[
DC Connection
]
[
hop back
] [
hop forward
]
This pattern is copyright protected and is for home and personal use only. The opinions set forth regarding the WhenCreativityKnocks
™
Sock Monkey's Go Bananas VideoBook, an
d any other products, are my own opinions.