Please be sure to get your copy of the
Sept/Oct issue
of Crafts 'n Things Magazine so you can get the pattern and written instructions, as they will not all be included here.
Each photo has a Step # on it. That Step # correlates with the ones in the magazine (I really try to make crafting easy!)
I do not have photos of Steps 1 is tracing the pattern and cutting it out. I have not included that step. Let me know if you need it! Since Step 2 was requested, I am adding that now (today is now Oct 6, 2010 - took me long enough!)
So here goes: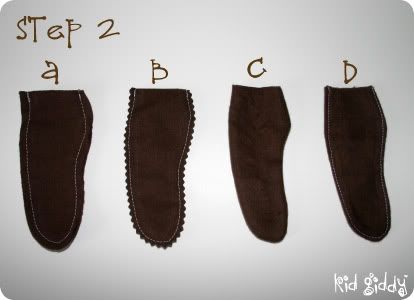 A= 1/4" Seam Allowance, B= Trim rounded edges, C= Turn inside out (see photo below), D= Top Stitch
If you have any questions at all - please do not hesitate to drop me a comment here to let me know!
If you'd like to share your Scrappy Owl creation - you can visit
Crafts 'n Things Facebook
page and upload a picture of your cute little owls and all the fun they are getting into!
Thanks for purchasing a copy of Crafts 'n Things magazine and supporting crafters like
me
! Have fun sewing!
Please note these photos are for home and personal use only, as is the pattern. All are copyright protected 2010.