Today the sky is a bright blue with puffy white clouds. The hope of a real warm feeling spring is just around the corner, and I'm so excited!
I haven't had much time to blog, twitter, facebook or much of anything else, as I finally finished my book proposal and submitted it all! I never thought I'd see myself writing a book, as much as I wanted to. I just didn't see how it was going to be possible. But I can attest that when you put it on your life's goal list...it can be attained. I won't know for a while if it's made it through the couple of hoops it needs to go through, but any prayers, fingers crossed, would be appreciated!
Despite the workload these past couple of months I was still able to enjoy some fun time with my family and some special moments with my girls...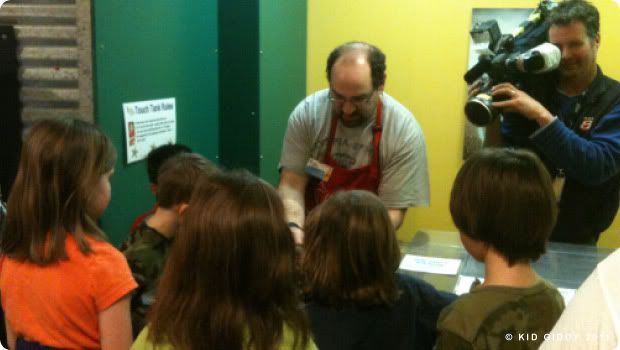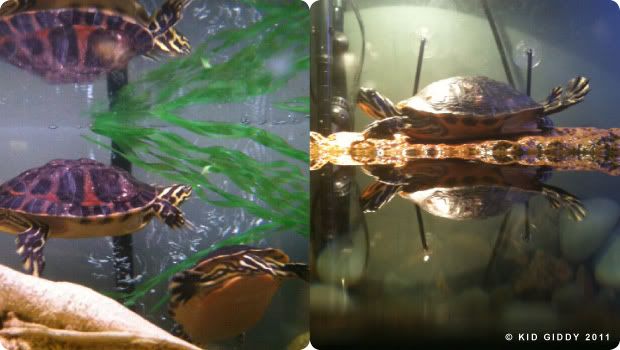 We took the girls to the Children's Museum in Portland and had a blast watching them explore, climb and being filmed for the local news station. The video was on the news later that day, but somehow we missed it. I think you can still see it
online here
. They were so excited for the "touch tank" to open so we stayed nearby. We had no idea they were doing a segment for the news until we got over there and saw the camera. We later went and saw the turtle tank. They are so cool! I loved the one sticking his feet up in the air. He must have been doing some core exercises!
On the way home Mr. Giddy wanted to get a picture of this HUGE enormous tree that came down recently and had to be chopped up. If I had the patience - I would've counted the rings...but alas - I do not. I stood next to it - just to give the perspective. It's unreal.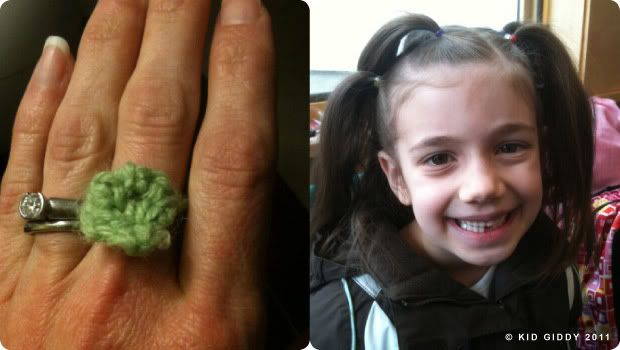 My older daughter who's going to be 9 later this month...I know - I'm in SHOCK! I can't stand it - I'm also anxious to get through this "phase" in her life. It takes everything out of me. But she's so stinkin' sweet when she's so sweet - really! Does that make sense? She made me this little crocheted ring...She lit up when she saw me taking the pic to share with you all on my blog...she's a bucket of endless ideas too! Both of my girls are. I love them so much. My littlest one - 7 - FINALLY lost her first tooth. It was Crazy Hair day in her classroom too - so this is a really cute picture! She was beyond excited to loose it, and then when I finally pulled it out, she cried because she didn't get to lose it at school. I can't seem to win, but we wiped the tears and moved on. She still got to put up a "lost tooth" sticker on the classroom chart. That made all the difference, that and her tooth fairy finally came! Oh the joy!
We got the girls a fish. Well....Mr. Giddy did that. I just take care of it! The girls have names him "Germaine"?! lol! Not sure how they come up with names - but that's his name.
And finally...one of my oh so favorite treats. I had fun lining them up and allowing them to march into my mouth one by one. That sounds so vicious - but they are the best. Only Black Forest makes them so good! Sorry little bears.
Next week I'll post pics of my first 5K and my girls doing the fun run! And at some point I'll post some more crafts and sewing projects I'm working on (when I get the ok to do so). And I didn't have my good camera with me, so all these are with my not so great 3GS phone. Looking forward to upgrading soon!
I hope you all enjoy your Easter. It's such a wonderful time of year to reflect on all that we are given.