Good Saturday morning to you all! What's for breakfast at your house today? Over here we have made some sunny side up eggs just in time for Easter (or April Fools!).
Buttons Galore and More
...Here's just a few of the buttons I got...and get to play with! The first thing I did was sort them all and played with them. As I look at them, I let the ideas come to the surface and the first project I knew I had to make was some eggs...sunny side up! It was the only thing I could think of when I saw these huge yellow, asymmetrical buttons...yolks! Does that make me weird? I think so! But fun. Always fun!
Here's what you'll need:
I used a natural wool felt for my base
I used a bright white wool yarn to make the egg whites.
You'll need needle felting tools (Mat, needles & brush (for cleaning the mat)
The "Buttons Galore and More" Yellow "Yolk" buttons
& a little Yellow yarn or ribbon for tying the yolk to the egg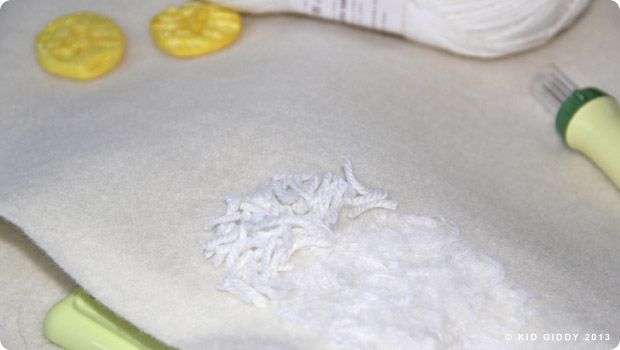 I cut up the bright white yarn into small pieces and needle felted it into a random, oval-ish, egg white pattern. The longer you continue needle felting, the softer it will be, eliminating the lines of the yarn. When it was all done. I cut out the "egg whites" and then wet felted them (warm water and soap, rinse with warm and cold water, then dry), and then attached the yolk to the eggs, using some bright yellow ribbon.
(If you want to make these way easier - you can use bright white fleece and sew a couple of pieces right sides together, leaving open a small space for turning, sew on the buttons, and then close the opening with a ladder stitch.)
These would be great for Easter Egg Spoon Races - put them in a plastic Easter egg and off you go...if it drops and pops open, you've cracked the egg and have to start all over again. They would also be a lot of fun for April Fools...maybe on a slice of felted bread, with some felted bacon on the side?!
Be sure to check out all of the other designers today participating in the Buttons Galore and More blog hop! I hear you can also enter for your chance to win a
Viewtainer
, packed with buttons and ribbon, by simply entering a comment at this link
here
. Fun Fun Fun!
I hope you have a wonderful day!
Although I was given free buttons from Buttons Galore and More, the opinions set forth in this post, are my own. This tutorial is shared with you in the hopes that you will learn a new fun craft. Please do not use my tutorials for your own gain. Please do not use my photos without permission and please do not retake any photos to remake the tutorial for your own blog or another company or in another language. These photos and the text are copyright protected. If you'd like to "Pin" the one finished project photo, please credit me by using "#kidgiddy". Thank you for your cooperation.