Hello hello hello. I've been home from the rush and thrill of Quilt Market, for two days now and am finally feeling my energy level increase ever so slightly. Oh wait, maybe that's just all the halloween candy and the massive sugar rush? At this point who knows for sure. I'm certainly not going to fight it anymore, bring it on.
This was my second Quilt Market and first in Houston, Texas (my first was in
May 2011
). It was so exciting to be back in my home state, yet bittersweet to not have my family here with me to celebrate all the happenings. I toted a copy of my book around QM like the baby that it is, and took pics of it with as many of the fabric designers I could find (whose fabrics I used in the book). Of course I had to get a pic with
Heather
, since she also wrote the foreword for my book. Sorry to be covering up the amazing paper pieced butterfly in her booth, but you can see it on her blog soon, I'm sure. She even won the best booth award.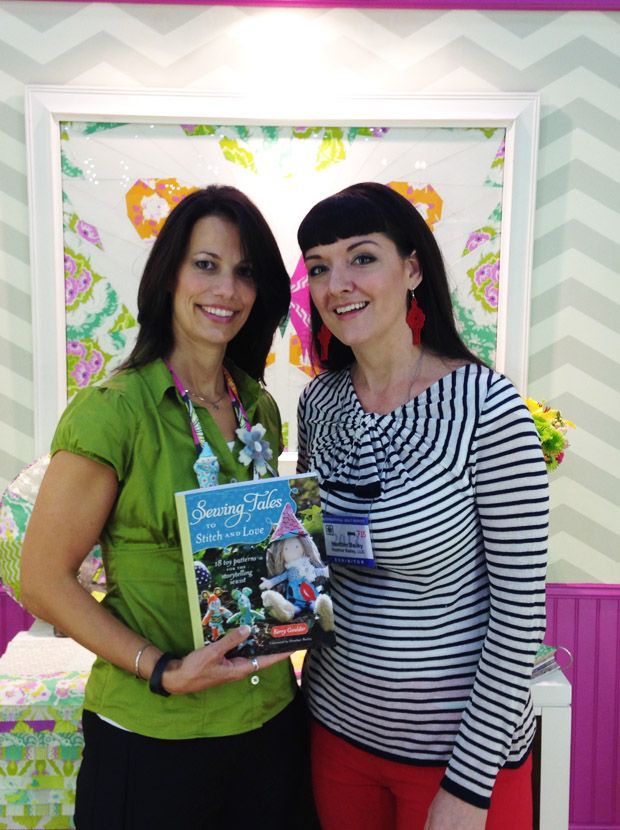 Some of you may have seen these pics on my Instagram feed, so I'm only reposting a few of them. If you didn't see them yet, and want to see more, head on over to my kidgiddy IG feed for all the others.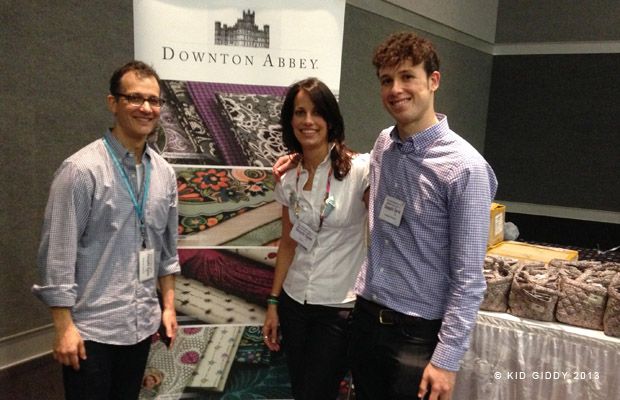 These two guys are from Andover Fabrics. My mom emails me (urgently) that I need to get her one of the bags they were handing out on the first day of schoolhouse, and I got the email too late. Then she says further down the email, that sample spree is tonight - and I HAVE to get her some of the Downton Abbey fabric because she LOVES LOVES LOVES that show. She's one lucky lady - with an amazing daughter that hooked her up. I paid just like everyone else - but walked out of there a proud daughter....thinking, man, my mom is going to love me! And she does. Now I have to ship it to her!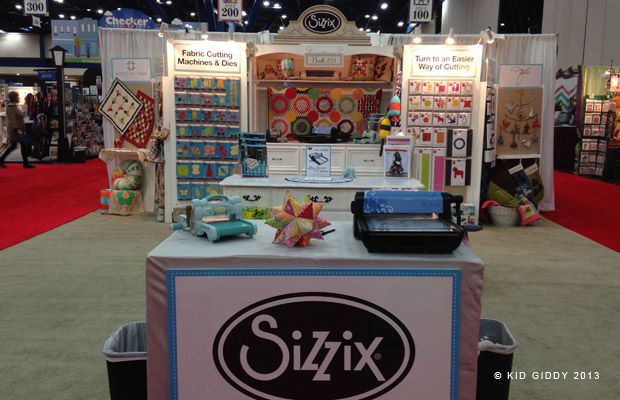 I spent much of the show demo'ing in the Sizzix booth, showing everyone how you can make some really cool things with your triangle, strips, and other basic geometric dies! (Like the Buoys & Hot-Air Balloon basket from my Sewing Tales book)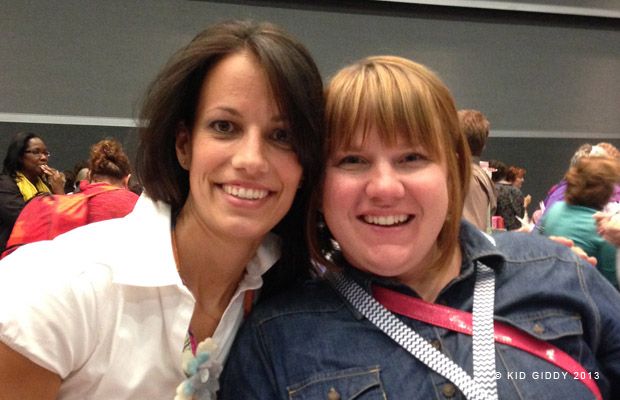 I met Amanda Herring from the Quilted Fish. She's such a sweetheart and when I met her earlier in the Sizzix booth, I didn't put her first name and her face together with the awesome fabric I used on the Row Boat project in my book!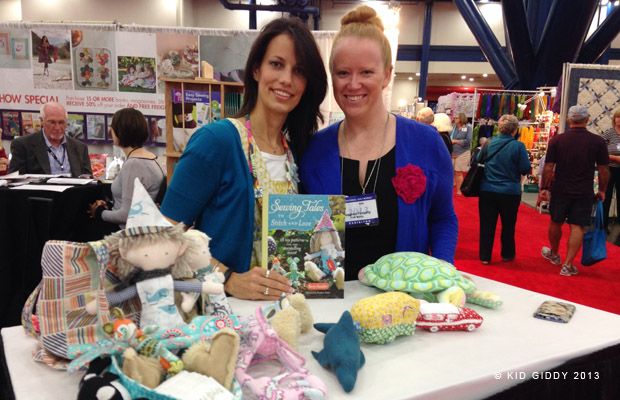 Say Hi to Meaghan Finnerty - the best Digital Marketing Manager at F+W Media! I feel like I've known her forever. She's been so great to work with and wish she stayed in Texas longer! Next time I'm in NY - guess who's getting a visit?!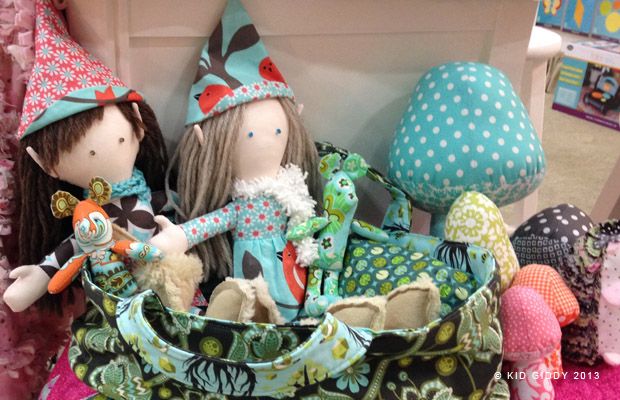 These little gnome girls, their mice friends, and the mushrooms got lots of attention in the Sizzix booth while I was there!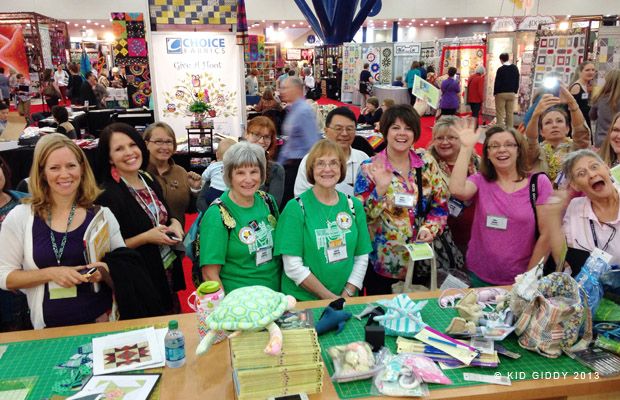 This was the scene of my Dritz demo and book signing. Look at all those excited folks - waiting so patiently for the fun to begin. Thank you for all the love everyone!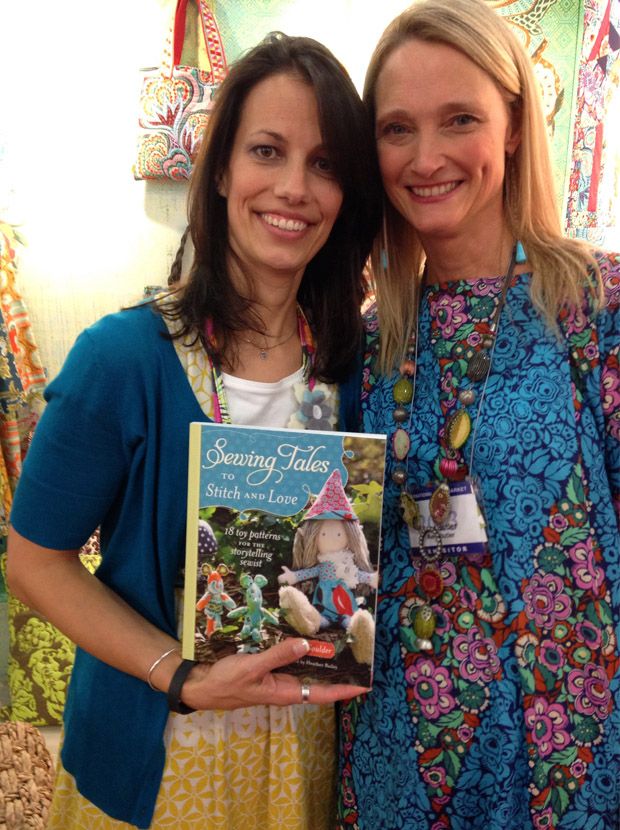 Had a little chat time with Amy before the show and during. She's so sweet. They all are. I love the community that exists in the 'fabric' community. It's just so down to earth and refreshing.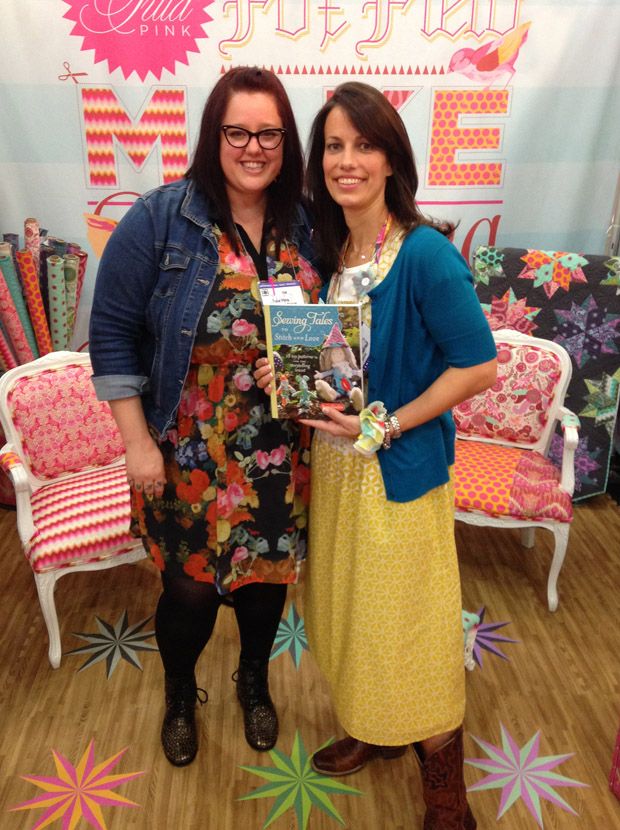 Tula Pink is in the house (and so was her brother, who is to thank for taking the awesome up high angled pic). I was trying really hard to keep my blinders on in everyones' booths, so I wouldn't get all giddy about their new fabric lines, but that didn't work so well. I love them all, and my Christmas wish list just got longer.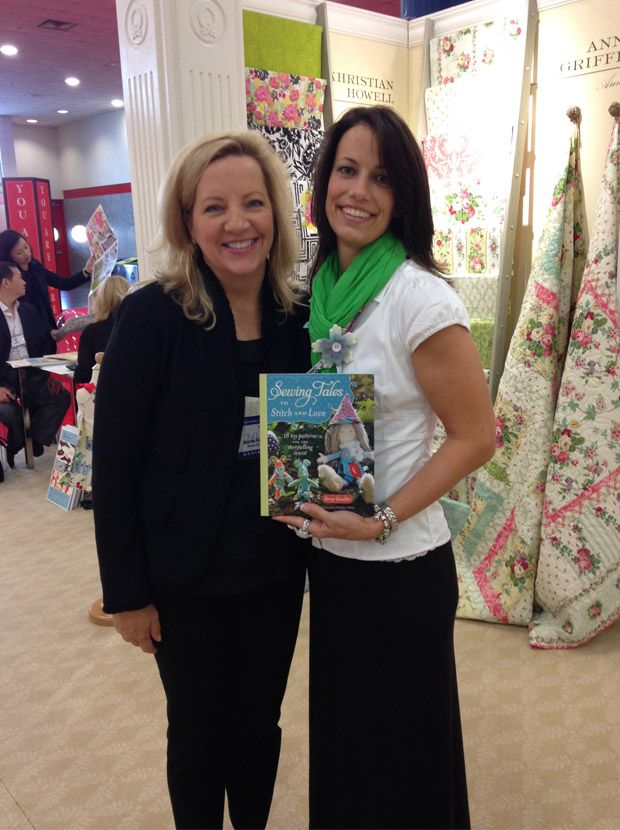 I could not go to Quilt Market or CHA and not get a pic of me with Anna Griffin. While in her booth I saw the dog bone pillow I designed for her in some adorable new doggy fabric. I love that my patterns live on.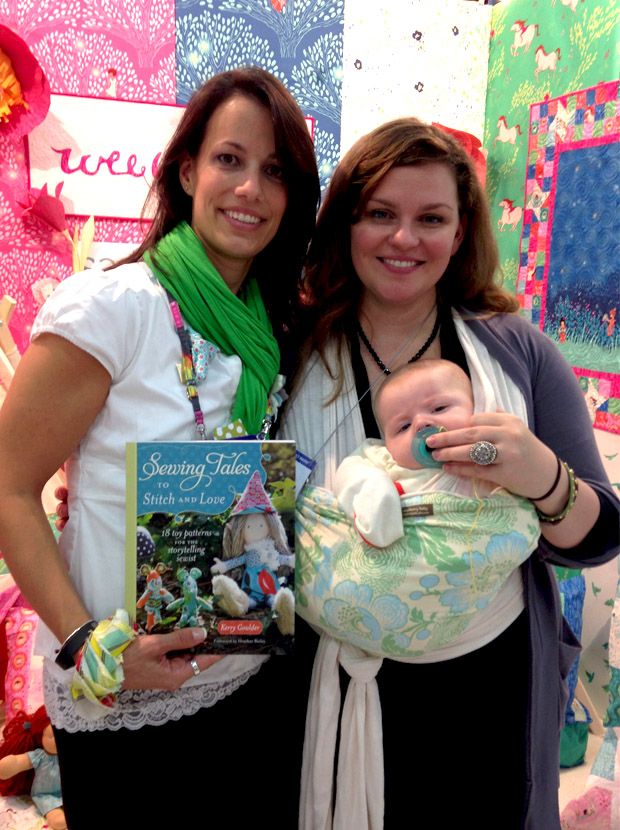 I got to go out to dinner with this lovely lady and her sweet baby. I can't imagine going to quilt market way back when my girls were tiny babies and bringing one with me. It's exhausting as it is, but she pulled it off and looked beautiful doing it. Love her kindred spirit, and Heather's for that matter. I also had fun with Heather and her husband at the Goode Co. for a BBQ dinner and had a blast.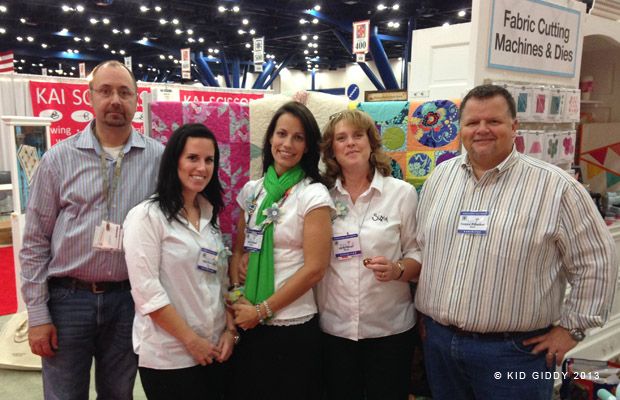 Even after the weekend was over, the Sizzix folks still liked me! LOL! No matter where we were and what we were doing, it was all fun and laughter. They are seriously such a great group of people to work with.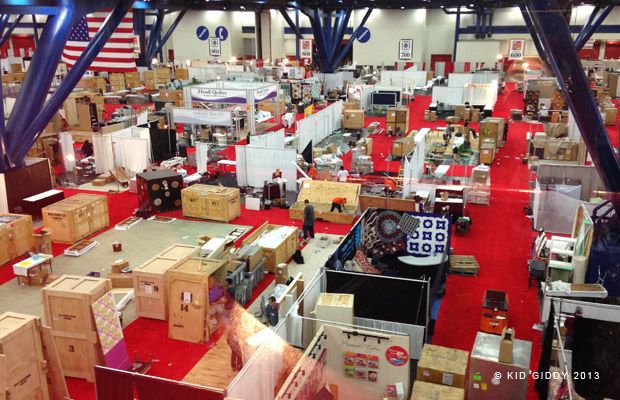 Promptly at 4pm, the announcer came on and said "All good things must come to an end". Seconds later, the echos of paper, boxes and crates filled the air. The shoes came off and everyone else but me changed into "comfy clothes". If you look closely, you can play ispy and find Heather Bailey and her husband Isaac. I had just said goodbye to them, but couldn't see them in the pic until I saw it on my large computer screen.
As sad as I was to leave Quilt Market, coming home to my awesome husband and amazing daughters was a much happier moment for me. Now I sit at home and contemplate a booth for Spring 2014. Should I do it? I'd have to have some new patterns to release. I'd have to get a UPC code account. Register and all that other stuff. It scares the daylights out of me, but we are meant to learn and grow when we leap in faith, right?!
Until then, I will go day by day, and week by week. I'm so excited for next week and hope you will join me and all of the 20 bloggers for the Sewing Tales Book Blog Hop (Nov 4th - 8th). I will be sharing some fun little extra projects on my blog each day of the hop, and hosting an awesome giveaway for the week. The response to my book at quilt market was amazing! If you haven't gotten your copy yet...get it now on
Amazon: Sewing Tales to Stitch and Love
(no they don't give me an extra cut of profits), and get your sewing done early for the holidays.
Thanks for stopping by. If you haven't already, please click that link below and sign up to receive my newsletters, which I hope to start in Jan next year, maybe sooner?! Have a great, happy weekend.