Wow - This recap has been taking me so long because there were so many awesome moments to include! This was my first day out on the showroom floor! There was so much to see and take in. It was rather overwhelming - but like any kid in a candy store...you just dive right in and enjoy it while you can...blisters and all!
This was my first Make & Take of the day, with Melony Bradley in the Marvy Uchida Booth! I've got Gnomes in my brain!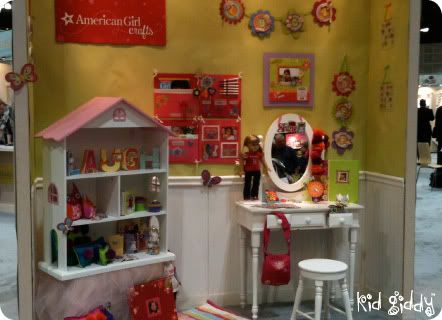 I asked to take this picture of the American Girl Crafts Booth by ekSuccess Brands - for my girls! I'd love to design crafts for the American Girl line! Wouldn't that be so cool?!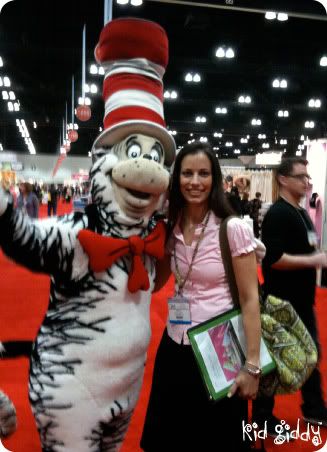 My first Celebrity photo op...that's me and Cat in the Hat...who else would it be? This was for my girls too!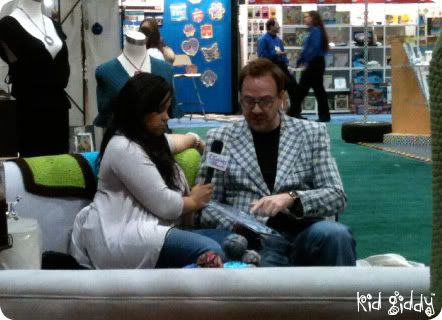 Second sighting - "The Crochet Dude" in the Simplicity booth!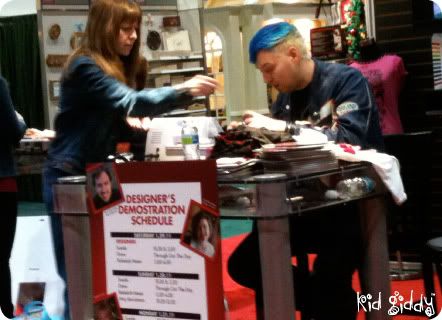 This is Suede from Project Runway in the Simplicity booth! I got to talk to him too! Nice guy!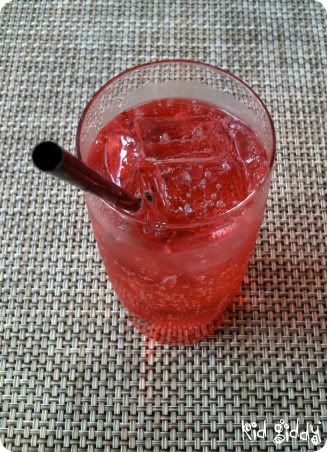 Yep - another Shirley Temple at Wolfgang Puck for Lunch!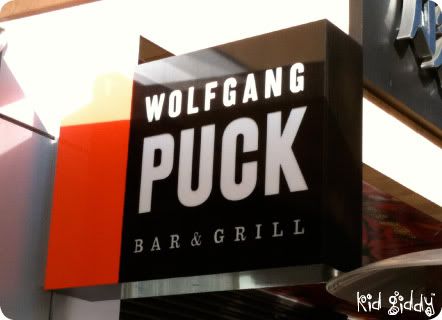 I don't have a picture of our yummy lunch, because we ate it so fast, so I took a picture of the sign instead!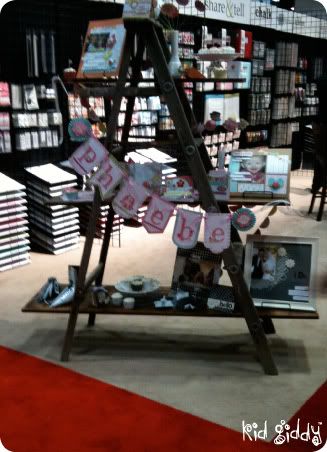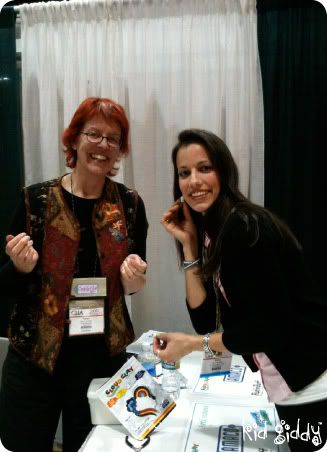 This was another Make & Take with Cloud Clay - I made some cupcake earrings with Helen!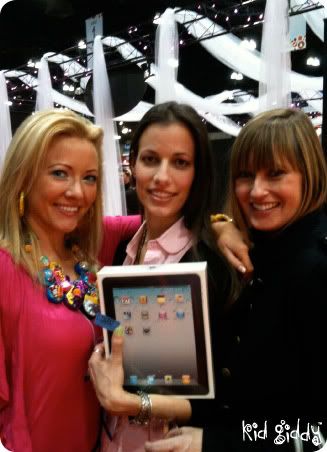 I won an iPad at the Westcott booth! Here I'm celebrating in disbelief, with Marisa Pawelko and Wendy Russell!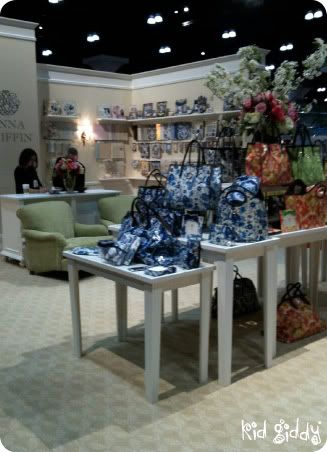 Oh my lovely Anna Griffin booth! The flowers were just as amazing as everything else!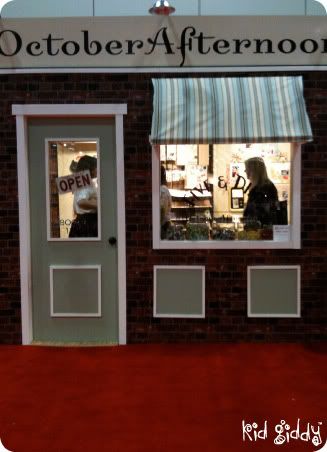 As you can see...October Afternoon booth - LOVE their collections! And I don't scrap or paper anything - LOVED it!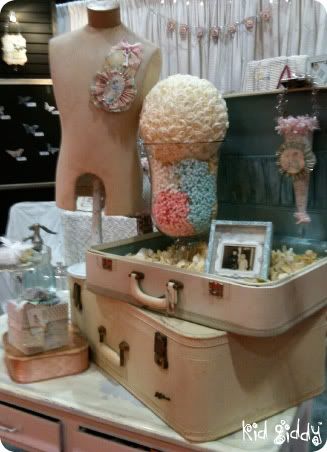 Took this picture for my sister...Totally her style - this is the Melissa Frances booth.
This is another section of the Melissa Frances booth.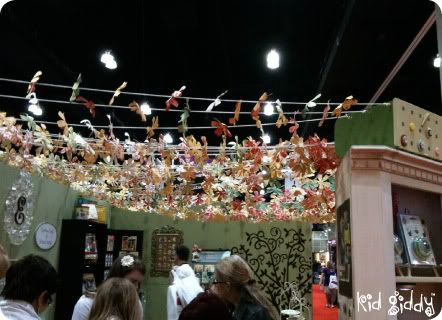 Again - not sure who's booth this was - but I loved the Flower garland/bunting/banners!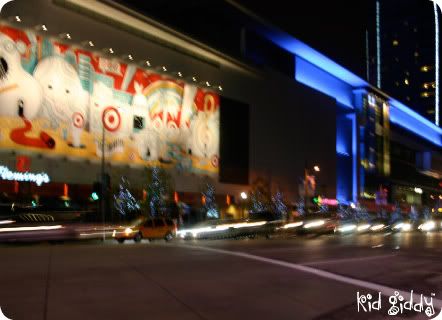 After a very long day, my friend Vicki and I went out on the town...Cool lights - but too bright for the full blur effect!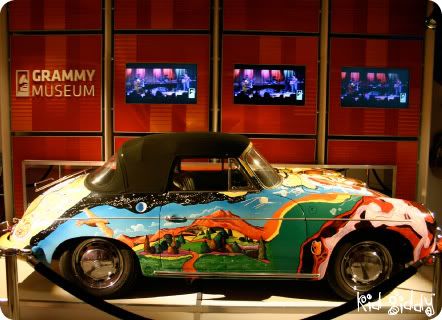 We stopped at the Grammy Museum that was closing in 30 minutes! Took this pic for my hubby!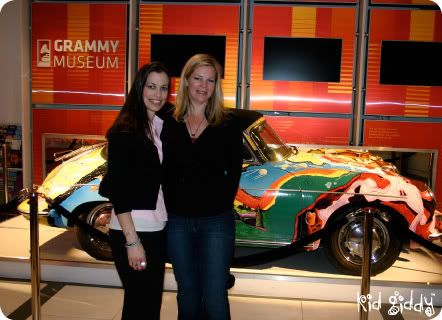 This is me and my long time friend Vicki. I've known her now for - wow - 15 years? She just got married in January! She's a blast - I wish she lived out east still.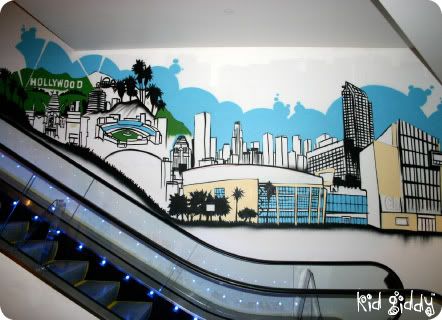 This mural in the Grammy Museum lobby was painted on Friday night while the museum was closed. Friday day when I walked by there was only pencil drawings and they were laying the tarps down to get started.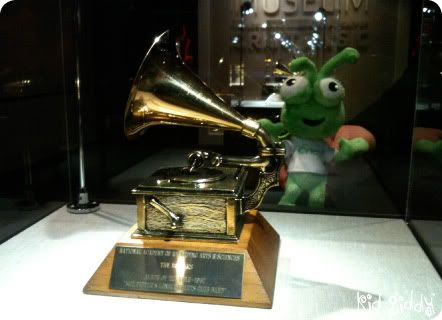 This is Cricut going about the town...winning a Grammy!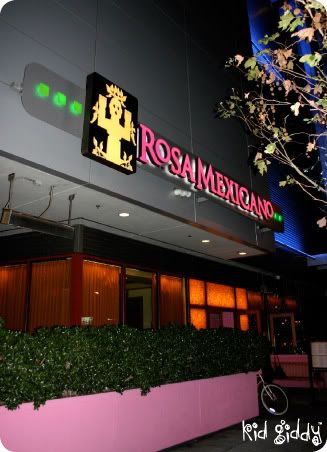 After we left the Grammy Museum, we went to dinner at Rosa Mexicano!
I totally wanted this bike. So cool! But since I couldn't - I was willing to settle for the "postcard" photograph!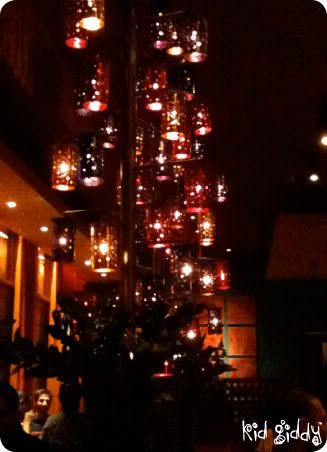 This was the inside of the restaurant. I took pics of our food - but you can't really see it. So I'm not posting it! But the dessert was totally amazing!
If you'd like to read my CHA experience from the beginning, check out
Day 1
and
Day 2
!
I will at some point post the remainder of my trip, and hopefully sooner rather than later so I don't forget it all!