Long time no post...right?! Well I'm excited today to share with you all a really sweet gift I made for all the teachers at my daughters Primary school for Teacher Appreciation week!
I received the set of
ImpressArt Metal Stamps
to use for this blog hop and needed to make something for the teachers this week, since I'm also on the PTA. I thought, why not combine the efforts? When my friend Nora came over to help make the flowers, I decided to they would look really cool with little metal discs in the center! I quickly ran out of metal discs as I was making at least 30, and turned to my box of wooden buttons. I wasn't sure if the ImpressArt Metal stamps would work on the wooden buttons, since I have never used these, but they came out so cute - they worked so well on the metal
and
wood! It was so much fun to play with everything, that I am now, totally addicted!
I took pictures while I made them, so you can make a few for gifts as lapel pins, hair bands, headbands, bracelets, necklaces, and every other option under the sun!
Here's what you'll need from ImpressArt:
-ImpressArt Alphabet Stamp Set, Set Name, Jeanie (lowercase)
-ImpressArt Design Stamp, Whimsy Flower, Whimsy Heart & Fun Star
-ImpressArt Metal Stamping Blank Discs (with 2 holes)
-ImpressArt Metal Stamping Hammer
-ImpressArt Steel Stamping Block
-ImpressArt Stamp Straight Tape (I didn't want mine straight, but you may, this helps!)

Here's what else you'll need to make the flowers:
- 5" Tulle roll (color is your preference, I used white)
-Linen Fabric
-Scrap Fabrics
-Wooden Buttons (optional)
-Flower Shape (either a machine cutter, your own simple pattern, or a pre-made flower template)
-Needle & Thread
-Scissors
If this is your first time using ImpressArt Metal Stamps, please be sure to check out their website and
resources
page. They even have a "viewer" so it can help you plan what you want to use and what it will look like!
Here's what you do: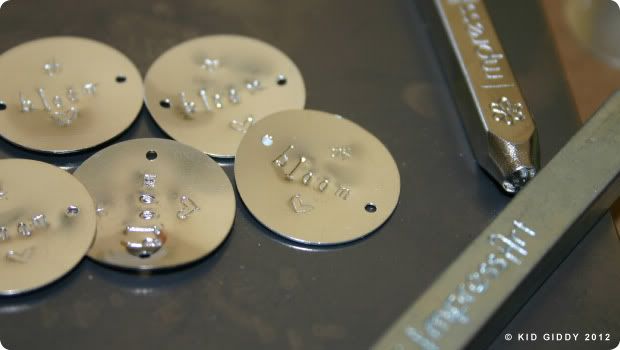 Decide what word and design you are going to use and stamp the discs. They puckered as I hammered, so I just flipped them over after and flattened them out a little. This is before I flattened them out. I used the word "bloom".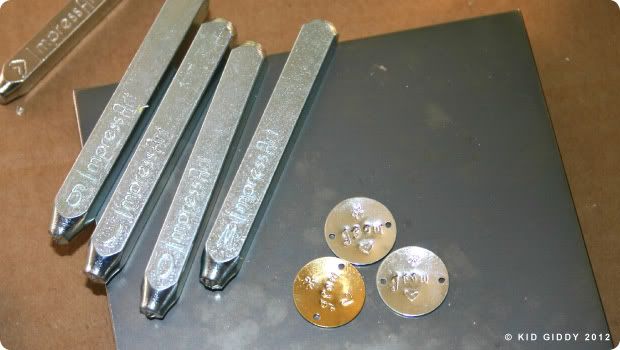 On the smaller discs I used the word "grow" (since that has to do with flowers also), and stamped the heart & flower.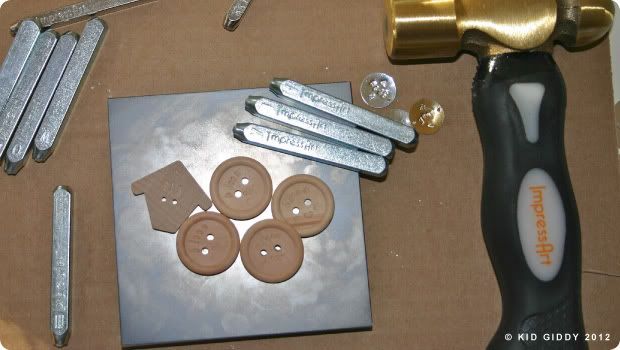 When I ran out of discs in the 9th hour, I turned to wood, it worked like a charm! I LOVE these tools!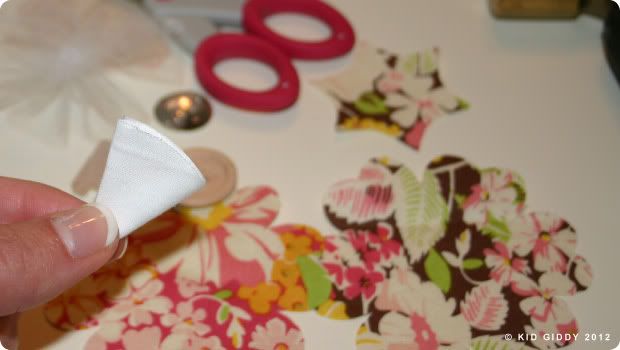 Cut out all your round circles. The circle should be approx. the same size if not a tiny bit smaller than the flowers. Fold the white round circle in half, 3 times. Cut the all the folded edges (leave a 1/2"- do not cut all the way to the center)
Next cut 2 straight lines (again leave the 1/2" of the center protected and intact)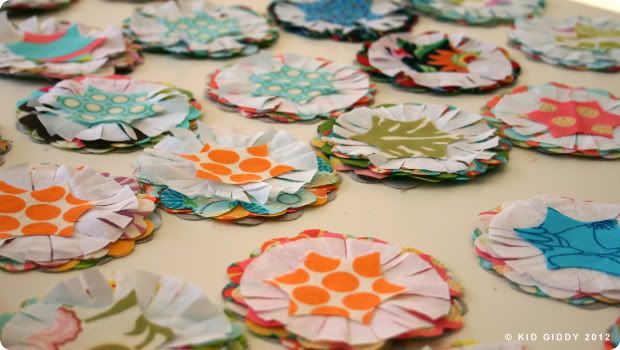 Cut all your flowers with your own template, or a purchased template or die cut. I cut one piece of Linen for the base, and 3 pieces of fabric for each flower. I also used one white circle and one tiny center scrap, but know that you can use as many as you want. It all depends on how fluffy you want your flowers to be. Once you have cut all your flowers from your scraps, and your white circles, you can pre-stack them to match them up. Don't they look so pretty? Thanks Nora!
To fluff your flowers, cut a piece of the 5 1/2" width Tulle roll (approx 11" in length) and cut in half. Using one strip, thread your needle and at one end of the tulle (lengthwise) gather it with a running stitch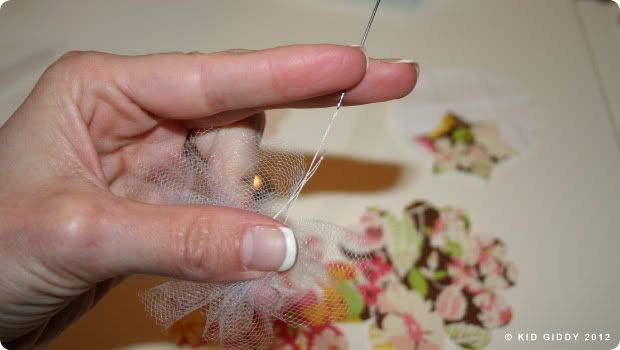 Before pulling the thread all the way though, loop your needle through the end and pull tight.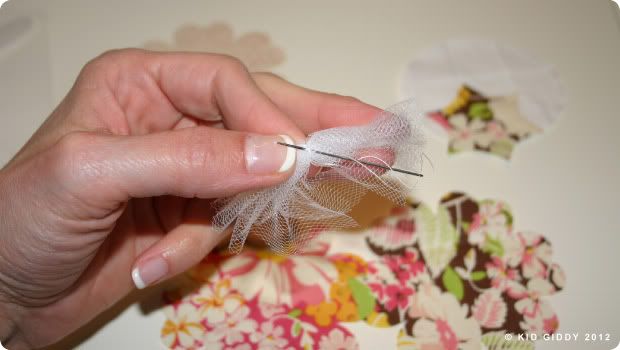 Wrap the thread around the gathered center a few times and then tie off with a double knot.
When all the pieces are ready for assembly, here is the order I used. I felt the tulle worked best under the white layer!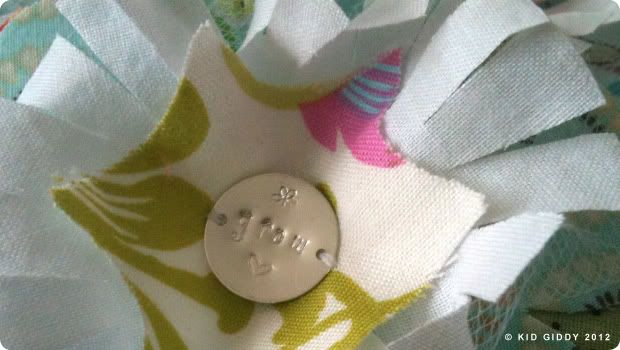 Once the pieces are layered, you can sew the pieces together. You can put a small pin in the back for a brooch, or sew an extra piece on the back to make it useful for a hair rubber band, or stitch it onto a headband, or even onto a beautiful ribbon to make a necklace. Make as many flowers as you'd like. But please do not sell them. Give them as gifts!
I really had so much fun using these ImpressArt Metal stamps! Sometimes I am so fearful of trying something new that I tend to shy away from it. But I jumped at the chance to try these out and was not disappointed. This is something I will use time and time again for gift tags, jewelry, and many other fun projects.
If you would like your own set of ImpressArt Metal Stamps, you can head over to the
ImpressArt Facebook page
to enter to win!
The Grand Prize is valued at up to $120.00 and contains:
1- ImpressArt alphabet set of the winner's choice
1- ImpressArt Steel Stamping Block, small
1- ImpressArt Metal Stamping Hammer
1- ImpressArt Stamp Straight Tape
A
n Assortment of metal discs
After you enter to win your own set, be sure to hop around to see all the other folks that have joined in this hop and the fun projects they created for more ideas!
I know I have a few more of my own and look forward to making some truly one of a kind metal projects with these ImpressArt metal stamps! My sister wants to borrow them and make a few things too! (we are twins, we love the same stuff)! I hope you have a wonderful weekend! Thanks for hopping over here and adding more giddy to your life!

I did receive the ImpressArt Metal Stamp tools as listed above, to use for this tutorial at no cost to me. It does not have any effect on my opinions as set forth in this tutorial. The opinions here are my own.
This tutorial is shared with you in the hopes that you will learn a new fun craft. Please do not use my tutorials for your own gain. Please do not use my photos without permission and please do not retake any photos to remake the tutorial for your own blog or another company. These photos and the text are copyright protected. Thank you for your cooperation.